A drop-in subscription billing UI for Laravel
A lightweight alternative to Laravel Spark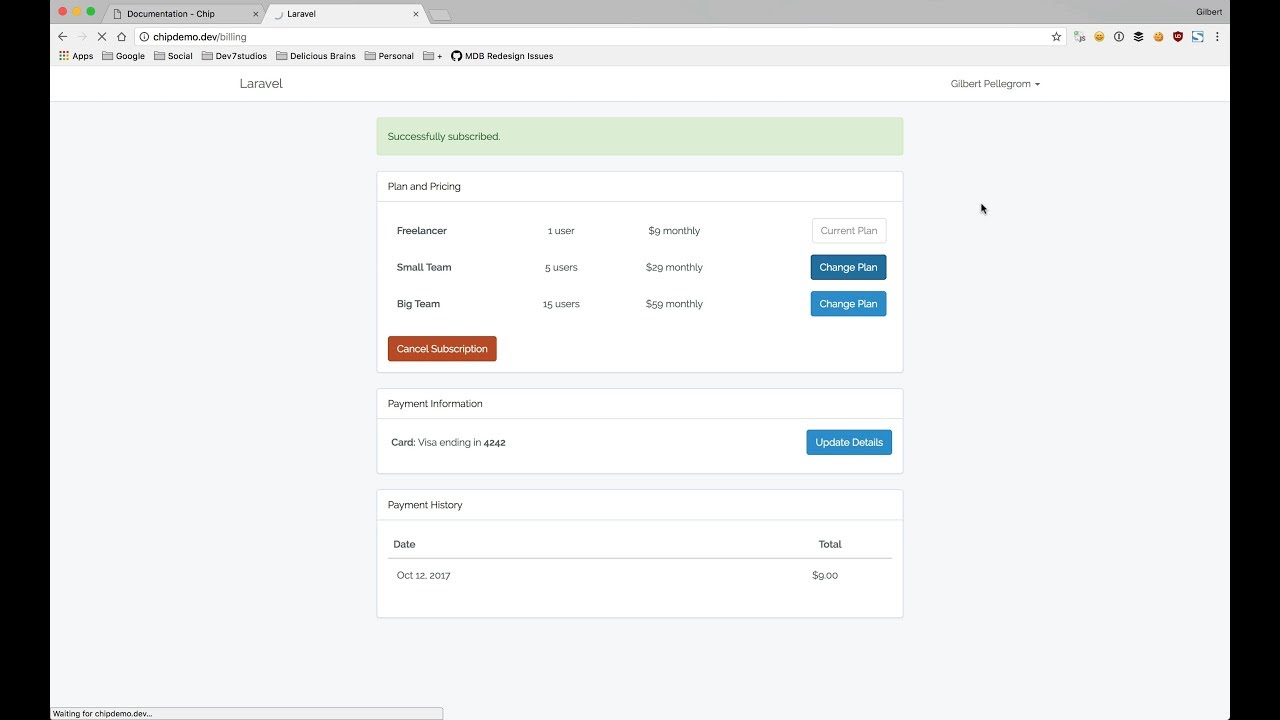 The missing UI for Laravel Cashier
Chip was created to be a lightweight alternative to Laravel Spark. It is a drop-in subscription billing UI powered by Stripe and Vue.js components. It allows you to focus your time and energy on building your SaaS app rather than worrying about the complexities of the billing system.
Front-end components powered by Vue.js
Create a billing UI in your SaaS app using front-end components powered by Vue.js.
Stripe Checkout for a world-class payment flow
Chip uses Stripe Checkout for a beautiful and simple, world-class payment flow.
Bootstrap compatible styling out of the box
Components are built with Bootstrap compatible styles for a simple setup and easy customization.
Why Chip?
Laravel Spark is packed with features which makes it brittle and hard to maintain if you want to customize any part of it. Chip, on the other hand, is lightweight, flexible and designed to be customized.
Lightweight
Chip is lightweight and flexible which makes it easy to customize to fit into your app.
Maintainable
Chips tiny size makes it much easier to update and maintain if you have customized your install.
Open Source
As chip is an open source project bug fixes and contributions can be made by the community.
Simple Licensing
Chip has two kinds of licenses: open source and commercial. If you want to use Chip to develop commercial sites, projects, and applications, you can purchase a Commercial license to keep your source code proprietary.
Commercial License
£

29
One-off payment

Unlimited use on 1 site

Email support

30-day money back guarantee
Buy Now
Bulk Licensing
£££
Discounted commercial licenses

Email support
Contact Us
Chip news and updates in your inbox!